Careers
With some of the most respected brands in Canada, our associates, along with the beliefs that guide their behaviours and actions, are the heart and soul of our company. Our beliefs are the foundation of everything we do to advance our mission to ensure delicious and nutritious baked goods and snacks in the hands of all Canadians. 
Why Join the Bimbo Canada Team?
At Bimbo Canada, we value our associates, which is why we create meaningful career opportunities for them. We take great pride in fostering the personal and professional growth of our associates while supporting them to take charge of their own careers. Our purpose is to Nourish a Better World and our philosophy is to be highly productive and deeply humane.
This is embedded in all that we do, including in how we treat our associates. The safety and well-being of our associates is prioritized above everything else. We believe that safety is not about protecting our associates from something, it's about protecting them FOR something—for their families, friends and the things they love to do.
We respect our associates and demonstrate this with competitive salaries and comprehensive training, learning and development opportunities, recognizing the diversity in culture and talent, and an array of company sponsored perks and benefits*:
Competitive compensation
Supplemental medical, dental and vision plans, including a Total Health program for virtual doctor visits, mental health care and prescription delivery
Employer sponsored retirement plans
Disability programs
Comprehensive vacation entitlement
Tuition reimbursement
Bimbo Canada is an extraordinary place to work. Whether you are a recent graduate, or an experienced professional, we provide an exciting, fast-paced workplace with plenty of growth opportunities.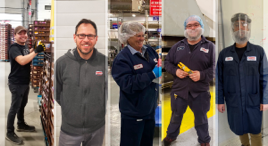 Nourishing Careers
We are always looking for talented people to join our team. Browse our career opportunities, submit your resume and apply online today!

Accessibility
Bimbo Canada is committed to complying with the Accessibility of Ontarians with Disabilities Act. Our Accessibility Statement and multi-year accessibility plan are available below. All related policies are also available upon request.